Its time for the fabulous
Jenn's
What I Ate Wednesday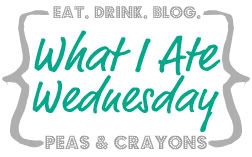 This week the kiddos wanted to learn how to play poker. Here's what we ate while we played.
Veggie burgers with a yummy side of pickled cukes & onions. You can't really see it in the picture but my poker chips are white, brown and the prettiest shade of pink. So are the cards. :)
Yum!
Fresh from the farmer's market. So good!
Meet Mr. Organic Pizza Rolls Man. He was delicious.
I also made my very first batch of iced coffee here at home. It was so good
Go Buffs!!
Cold brewed decaf coffee with some chai latte flavored creamer and almond milk. Delicious and saves me $5. :0)