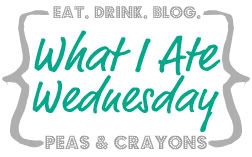 Once again I have slacked about joining Jenn's fabulous What I Ate Wednesday posts. Things have been a bit cuh-razy around here once again. :)
So here are some photos of what we have been eating since my last WIAW post.
Enjoy.
The sauce was soooooo good.
Made with diced tomatoes, green chiles and peanut butter. I could not believe how delicious it was. I actually used my finger to wipe that plate clean.
Zesty chicken nachos the next day. :)
My beautiful Neva enjoying some frozen organic strawberries on the 99 degree 4th of July.
I made hummus. With barely cracked black pepper corns. Yum!
Tuna salad made with hummus instead of mayo, onion & celery.
No bread for us. I put it in buttercrunch lettuce from our garden.
And may I just say, its a darn good thing the tuna was good enough to eat plain because my daughter ate every single one of the tuna-lettuce wraps before I even sat down to join her.
Oh. And just to clarify. I use my regular dinner plates as serving plates. So the pictures you see aren't MY meals. That is how much I put on the table for the 3 of us. Only in the case of the tuna/lettuce wraps, my sweet little girl forgot to share.
Blueberry-strawberry slushies.
We've been making a LOT of these and/or fresh fruit popsicles. It's just been so darn hot!
Frosting from a chocolate mint cupcake. This little bakery makes THE BEST cupcakes EVER!!