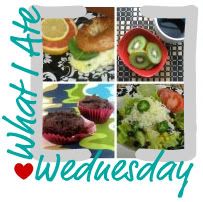 This week I made one of Jenn's recipes that I have had bookmarked for some time. She wrote about it on Monday as
A post that didn't get the attention it deserves
so obviously I had to make it that night and give it a little attention.
Let me tell you, Jenn was right. These
samosa stuffed potatoes
are delicious!
Of course, as with every single recipe I make I had to tweak it a bit and put my own spin on it.
I baked the potatoes in the microwave, because well, it was 95 degrees out and I didn't want the oven on any longer than absolutely necessary. Instead of sauteing the veggies I did a braised celery, onion & carrot dish
Yummy veggies
and when they were just barely steamed (still very crunchy) I pulled some out and chopped them up to add to my potato innards. I also used the braising liquid instead of making a veggie broth.
I hid a little bit of havarti love in the bottoms of the skins. Creamy, yummy, havarti with dill to add a bit of cooling to the curry spiced deliciousness of the potatoes.
Won't that be a lovely surprise?
I ran out of cumin so I used turmeric instead. Don't you just love that gorgeous yellowy orange color?
Yum!
Such delicious veggies.
Mmmmmm
To calm the spiciness a bit I made a yogurt sauce to top the potatoes with. Greek yogurt, salt, pepper, onion & garlic powder, fresh parsley from the garden and a dash of Bragg's liquid aminos. Both of the kids were thankful for it as the spiciness of the curry and cayenne were a bit much for them.
Now for the rest of the days meals. Breakfast that morning was some oatmeal with maple syrup & brown sugar. Nothing special & not pretty enough to take a picture.
Snacks: Frozen cherries in the morning and carrots dipped in the yogurt dip at night.
Lunch: Some of my yummy Messican soup. (Beans & rice in soupy form) This is a staple here in the Ramon home. I love it!