Finally, all of the little sister's wedding brou-ha-ha/nonsense/insanity/wonderfulness is over. I spent too much money, time & energy the past week and I finally feel like my summer vacation has truly started.
(Oh, and Jenn...my sis got the idea from your wedding pics for the poofs to decorate her reception hall. :) Or more specifically, Monkey, who also reads your blog got the idea. So. thank you! They turned out beautifully.)
She was a beautiful bride.
The girls poofing out poofs.
Bride to be & two of the boys working on poofs.
And now that its over, for the first time in over 8 days I have begun cooking real food for my little family. We were living on fast food, take-out pizza and sandwiches. Not fancy, delicious sandwiches you want to take pictures of and share with the blog-o-sphere, but slap some peanut butter & jelly on bread & race out the door kind of sandwiches. Blech.
I am so happy to once again join in Pea's and Crayons What I Ate Wednesday. So here is what we ate yesterday.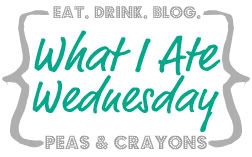 Breakfast:
I am helping out my cousin and watching her two kids (ages 11 & 6) on Mondays & Tuesdays because I don't work those days and the cost of daycare is INSANE!!! Anyway, these two aren't used to being around the crazy lady who doesn't have cereal in her house so we went for pancakes instead. :) Pardon the crappy phone pics, my camera died at the end of the reception.
One batch of plain pancakes.
I found a basic buttermilk pancake recipe in a cookbook and switched it up a bit. We used soymilk instead. I used spelt flour instead of whole wheat flour and I added a few dashes of allspice to the dry ingredients.
Uncured bacon for half off? Score!!!
2nd batch had blueberries. Yum!
These were pretty good. I am still experimenting with spelt flour and these were the best I have made so far.
Lunch: I had a craving for hot dogs. A plain ol' hot dog just wouldn't do so I slathered on some spicy brown mustard, added some kosher dill pickle & sharp cheddar cheese. That was goo-oo-oo-oo-d. Now I probably won't eat another hot dog until I go see a baseball game later this summer.
Snack: Peaches. Some yummy, chilled peach slices hit the spot as the temp hit 90 degrees.
Dinner: Meh. We had some leftover pizza.
Late night Snack: A yummy made by me pineapple juice popsicle. Very refreshing before bedtime.
Pure juice strained from a can of pineapple I used in a recipe. Yum!