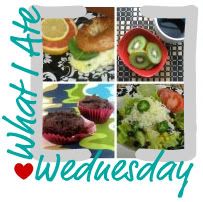 For the very first time EVER my What I Ate Wednesday post is actually going to be about what I ate on an actual Wednesday. :)
This very, today, Wednesday.
I got a serious craving for something sweet last night about 11 pm. (Yes thats a Tuesday but let me finish). I sat on the couch, whining to my son as we watched Hercules (Kevin Sorbo---yum!) but he refused to walk to the 24 hour Walmart to get me a Ben 'n Jerry. (No I wouldn't have actually let him do it but it would be nice to know he would be willing---he wasn't).
By about midnight the craving wouldn't leave so I decided to make some cookies.
What? You don't bake at midnight? It's summer in an air-conditioner free home. Midnight is the only time I willingly turn on the oven. :)
So I searched a blog desperately looking for the ginger cookie recipe I had found earlier in the week. Pardon the crappy pics, my phone is not even remotely smart. It's rather old & stupid actually.
Here's the link to the original recipe. As usual I changed it up a bit.
Debbi does dinner ginger cookies.
Instead of 1 tsp cinnamon (I was out) I used 1/2 tsp ground cloves & 1/2 tsp all spice.
I cut the vegetable oil down to 1/2C and put in 1/4C natural unsweetened applesauce.
I cut the sugar down to 3/4C and did not sprinkle any extra sugar on top of these bad boys.
They were so good! I am saving this recipe for sure.
Lunch/very late breakfast was some yummy fried taters with onions, celery, garlic & comino. I LOVE LOVE LOVE LOVE cumin!
Add some scrambled eggs & organic spinach and thats a great day of Wednesday eats!
Side of salsa ready to mix in
What are you making today? Anything super yummy?