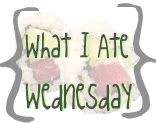 I feel like I haven't done this in forever although in reality its probably been only 2 weeks. The end of school and the immediate aftermath really kicked my butt this semester.
Breakfast: the usual greek yogurt and an apple
Lunch: I had a craving for Cheez-its so I made some. :) You can read about that adventure
here
Dinner: Some sort of baked penne dish that I threw together. I made the sauce with a can of small diced tomatoes, garlic, onion, spinach & grated carrots.
Bubbling away.
Alternate layers of sauce, cooked whole grain penne and cheese.