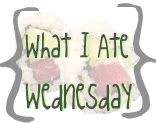 It's the last week of school. I took my 1st final about an hour ago and I am heading into 3 more finals during the next week. I took extra pictures of Easter dinner in preparation for what I knew was going to be an insanely busy week. I didn't want to miss out on WIAW but I am not really cooking this week. :)
I prepped and/or cooked almost everything the night before. Eggs were boiled and cooled, potatoes & carrots made completely, cauliflower casserole put together, cake made & decorated. Come Easter Sunday I put the ham in the crock-pot, made the whipped cream for pink stuff & made the deviled eggs. I dropped the kids off at their Great-Aunts for family time & I headed up to physics tutoring. The kids and I didn't actually get to sit down to eat until after 7pm. :) It was worth the wait though.
Mashed potatoes & carrots. :)
Cauliflower Casserole.
This is usually a broccoli casserole but I had like 3 pieces of broccoli left and an entire bag of cauliflower. :)
Ham with a plum-glaze. Yummy!
Pink Stuff. A sickeningly sweet family tradition.
From the store rolls. No time to bake. :(
Tooter acting like a vacuum cleaner.
Bunny Cake
Neva guarding the pink stuff.