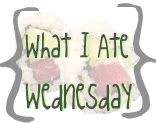 Oh my Goodness!
I had the best time cooking this week.
Yum!
Yum!
Yum!
So for this weeks WIAW I am posting, not what I ate on one specific day but some of my fave foods of this past week. :)
Dessert/Afternoon Snack: Baked Cinnamon Apples
Before
Chop some organic apples, sprinkle with turbinado sugar & nutmeg, add about 1/4 C water and throw in a cinnamon stick. This was in the crockpot on low for about 3 hours. So go-o-o-o-od!
Ready to eat!
Dinner 1: Salmon with Roasted Dill Potatoes
Ready to add the salmon
Don't they look delicious?
Just cut the potatoes and toss with a bit of salt, pepper, dill and olive oil. Bake at 400 for about 20 minutes. Then place some delicious salmon in the pan and bake for another 15ish minutes.
Wild Salmon marinated in Annie's Tuscan Italian Dressing.
Dinner 2: Fideos aka Mexican Noodle Soup
I love this soup. Usually its made with ground beef (at least in my family) but I did a mostly veggie version. First you brown the fideos or thin spaghetti in oil. Watch it cuz it burns quickly! Pull noodles out and pat them off to cut the grease. Then in the same pot saute 1/2 diced, small onion, 2-3 cloves of garlic chopped and some sliced baby bella mushrooms in your pot.
Browned thin spaghetti
Put the noodles back in and add 1 can diced tomatoes. Salt & pepper a couple dashes of crushed red pepper flakes and enough water to completely cover the noodles. I personally like mine more soupy so I add extra water, thats a personal preference though. :)
Here's where it went non-veggie, I threw in a little chicken base for extra flavor.
Bring to a boil then simmer for about 20 minutes.
Almost done
I had some extra epazote because I was also cooking a bit pot of black beans. I crush it in my mocajete.
Epazote
I use my small strainer to keep the epazote from entering my soup. I just want the flavor although it is completely edible.
This is how I keep the epazote out of my pot.
I cut some corn tortillas into strips and baked them in the oven for some texture. Plus, the kids really like it when we make our own chips. :D
Baked corn tortilla chips.