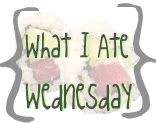 It's WIAW time again, thanks to the lovely Jen from
Peas and Crayons
.
This past week was all about the quinoa. I had never made it before, I'm not even sure if I'd ever had it before but the blogosphere seemed to be filled with recipes so I decided to jump on the bandwagon. I headed to my not-so-favorite "healthy" store (a mass-marketed shop filled with more non-organic than organics) because my Natural Grocers was out of this ingredient that day. :(
B: As usual breakfast tends to be either a chai or a coffee plus whatever fruit I can grab as I am racing out the door. I eat/drink it in the car while racing to campus. I NEVER go to my cadaver class on an empty stomach as it seems to make the smell so much worse.
Morning Snack: Raw almonds, some dried apricots and lots of oh-so-good for me filtered water. :) I ate these bad boys while hiding in my favorite library cubicle and studying something. Or maybe I was just reading my favorite blogs.
L: The best quinoa casserole. Lightly sauteed veggies (red peppers, onions, corn, spinach) add some cilantro and black beans to the quinoa. Toss and eat. I topped mine with some yummy fresh made organic salsa.
Saute-ing the veggies.
Yum! Eaten while studying cranial nerves.
D: Spicy Black Bean Cakes
I got this recipe from my little sis MonkeMama. Basic Recipe came from Debbi Does Dinner which my sis forwarded to me.
As usual I had to mess with the recipe and make it my own.
1 onion, minced

I used 3/4 onion
6 cloves of garlic, finely minced
1 jalapeno peppers, diced

I used 1 can of green chiles
1/2 red pepper

I upped this to 3/4 of a red pepper
1/4 tsp. red pepper flakes

We like spice so I upped this too
2 cans black beans, drained and rinsed

I used fresh made black beans (so much better!)
1/2 tsp. Epazote (or cumin or adobo spice or whatever)

I made the beans with epazote so I added a TON of comino instead
1 cup sweet potato, grated (packed in the cup, don't skimp)
2 pieces of 40 calorie bread, toasted and crumbled

I used a mixture of cornmeal & packaged bread crumbs I needed to use up
1/2 cup sour cream, light

I used kefir instead
2 tsp. lime juice

I had no limes so I juiced some clementines :)
1 small jalapeno, minced

Again, canned green chiles
Saute veggies & spices then add black beans and mush, mush, mush. I stopped with the fork and just used my hands. Add the remaining ingredients and mix then form cakes. I fried these in olive oil and they came out fine. :) I topped them with the kefir sauce and the kids and I inhaled these babies. I had lots of leftovers for school lunches (lasted all week).
Crappy phone picture. sorry :(
These were SO FREAKING DELICIOUS!!!
What have you been eating this week?