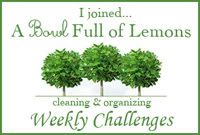 I am linking up with Toni over at
A Bowl Full of Lemons
and getting ready for this weeks challenge. We will be working on creating a home management binder. Basically an organized (my downfall) binder that contains all the necessary info for daily organization and helping to reduce the chaos in our lives. Chaos is something I am very familiar with and I think it will be great to know right where to find the kids' daily schedules, my school schedule, important phone numbers (I can NEVER find the kids' school calendar) etc...
This is a crazy week to join but if I'm honest with you, every week is pretty crazy around here. Tuesday night is my Physics exam and Wednesday morning (8 a.m.) I have an Anatomy exam about every single bone in the human body. Normally Tuesday is Neva's karate night so that has to be switched to Wednesday night as I don't want her to miss out. She is so excited because she finally qualifies for weapons training/sparring classes. No big deal right? I am super-momma!
*cough, choke, gasp*
Yeah, right. Anyway, I promise I will do my very best to keep up with these challenges and I am SO glad that she is giving us a week to complete each one.
If you want to know more head on over to Toni's blog and join us on this amazing journey.